Back on Track™ is the name of a range of high quality products, developed in Sweden, designed to aid pain relief .
The innovative FAR infrared garments, for Humans, Horses and Dogs, are non-invasive, comfortable, washable and, more importantly, have been demonstrated to greatly diminish the need for pain-killing medication. Because they are not disposable and are designed to be durable, they have become an environmentally friendly option. Plus, the unique material (the revolutionary Welltex™ fabric, a technically advanced woven textile, in which fine ceramic particles are fused into the fibres) with its FAR Infrared heat generating properties, may give much greater benefit than that of the basic neoprene, fleece or magnet products.

While being worn, Back on Track™ products provide an element of support but, more importantly, heat therapy aimed at giving continuous relief from the pain and discomfort of illnesses such as Arthritis. They work naturally by using the infrared therapy principal in reflecting the wearer's body heat, a form of energy that has a documented and proven pain relieving effect. This reflected heat can reduce inflammation, ease muscle tension, increase blood circulation and hasten the healing process. Their use is generally for remedial and preventative measures, targeting a specific area of the body (although they are extremely effective in warming up muscles prior to physical exercise or work, thereby reducing the risk of strains or injury) and, crucially, they can also expedite the recovery from established injuries.

T. & W. Healthcare Products ( t/a. BACK ON TRACK-UK ), located in Leicestershire, England, is a leading independent supplier of the foremost Back on Track™ products. The Human range comprises of Braces (Ankle, Back, Elbow, Knee, Neck & Wrist), Boxer Shorts, Fleece Sweaters, Hats, Gloves, Long Johns, Socks, Sweatshirts, Scarves and T-Shirts, along with Bedding items such as Pillows, Pillow Cases, Mattress Covers and Mini Blankets. Also, a comprehensive array of products that are designed specifically for Dogs (widely favoured in the Agility and Flyball sector) and Horses (tremendously popular in the world of Equestrianism). They include Dog Rugs & Mesh Sheets, Greyhound Rugs, Dog Shin/Leg Wraps, Dog Hock/Ankle Wraps, Dog Blankets, Dog Mattresses and, for Horses, Leg Wraps, Pillow Wraps, Quick Wraps, Back Warmers, Fleece Blankets, Exercise Rugs, Mesh/Fly Sheets, Outdoor & Indoor Blankets, Hock Boots, Knee Boots, Head Caps, Tail Guards and Saddle Pads.
Why not apply for a Loyalty Discount Card?
Get
10% off
the RRP of Back on Track™ products when Purchased from BACK ON TRACK-UK*. Just e-mail your request (including your name & address) to either sales@backontrack-uk.co.uk , bridtech.uk@gmail.com, or click 'contact us' above or via our Facebook Group (BACK ON TRACK-UK) and we will post your card (bearing your unique personal number) by return. * Terms & Conditions apply.
Gift Vouchers now available



CLICK HERE TO VISIT OUR EBAY SHOP, where a popular selection from our current range of products are also available.


POSTAGE

Our FREE p. & p. option refers to standard Royal Mail 2nd Class (or Courier equivalent) within UK (2 - 4 working days from dispatch). 1st Class is also available (1 - 3 working days from dispatch)
and other choices are readily available.
We do our best to ensure that all orders are processed & dispatched as quickly as possible, so please be patient. Once posted, it becomes the responsibility of Royal Mail/Courier (not ourselves), so please allow sufficient time for delivery, especially at busy times of year.
(for International orders, a nominal carriage charge, applicable to the package size, weight & destination, may be advised separately). More info. More info can be found on the Terms & Conditions Page.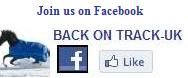 & nbsp;& nbsp;



Follow us on TWITTER